ISUZU FV
MODEL ISUZU FV CATTLE FEED
Isuzu FV tank truck carrying cattle feed was born to meet the needs of customers in the current Vietnam market. This is a big truck with a high-quality cattle feed.
Isuzu tank truck is built on 100% synchronous chassis imported from Japan with Euro 4 engine – powerful engine, fuel-efficient and durable, low fuel consumption. The tanks have been completely built, thick shells are cast of high-quality steel at the international factory IMAE JSC.
External Assessment ISUZU FV Cattle Feed Tank Truck
Isuzu FV tank truck carrying cattle feed has a quite strong design that has not changed much compared to the Isuzu Euro2 engine, with the position of the throttle wheel surface is more advanced to prevent wind, reduce cabin noise vehicles, and help save fuel during transportation.
Exterior Features:
Steering wheel surface: The Isuzu FV truck steering wheel has a modern and luxurious design to save fuel.
Headlamp assembly: Isuzu FV truck is equipped with a Halogen headlight cluster to help visibility is wider and clearer.
Door handles: With the new logo stamp helps to enhance the luxurious beauty of the Euro4 engine.
Logo stamp: Easy to handle and use. That is the criterion of Isuzu factory.

Interior Assessment Of Vehicle ISUZU FV
The interior of Isuzu FV tank truck carrying animal feed is no different from the previous Isuzu truck interior, with a fairly spacious cabin full of all amenities and quite luxurious as a trendy car…
The nodding steering wheel with 2-pin power assist is easy to control and grip during the moving process, the pedal system is integrated from the throttle brake which is conveniently arranged to reach the foot of the control.
Interior Features:
Control panel: Fully integrated utilities easy to use and control during the transportation
The bed behind cabin: Spacious cabin is equipped with an extra bed behind
Storage compartment: Vehicle Isuzu FV is equipped with a storage compartment on the left-hand side of the cabin
Door handle: Easy to control and handle during moving

Review Vehicle Engine Of The ISUZU FV
Isuzu FV tanker trucks forage are equipped with the Euro4 engine, a powerful fuel-efficient engine, a leader in clean diesel engines. The vehicle uses a standard engine when discharging level 4. Blue Power technology Common Rail electronic fuel injection creates a large capacity but is much more fuel-efficient.

IMAE – THE FIRST MANUFACTURER OF ALUMINUM ALLOY TANK TRUCK IN VIETNAM
Increase 10% of the allowable volume of goods – investment only increases 3%
Light-weight vehicles – saving hundreds of millions of dong each year for car owners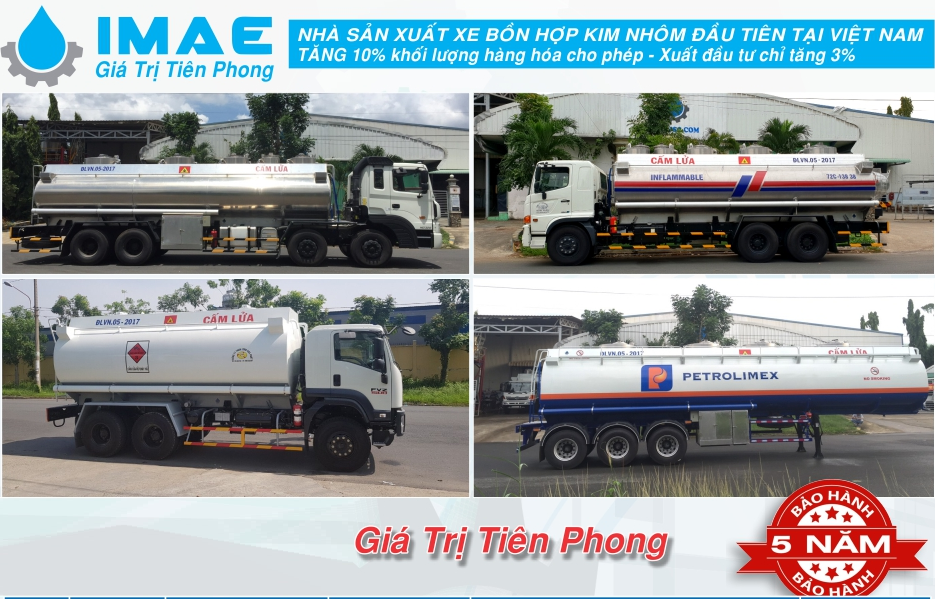 Currently, IMAE Factory is Production And Distribution of Vehicle lines:
ISUZU FVR cattle feed truck 12m³
ISUZU FVM cattle feed tank truck 20m³
ISUZU FVZ cattle feed tank truck 20m³
Tank Specifications:
Appearance: Ellipse
The capacity of specialized tanks: 12,000 liters to 20,000 liters
Main material: Good quality alloy steel, high resistance to corrosion and deformation. The entire specialized system is sandblasted anti-rust surface treatment. Or stainless steel material, or a durable aluminum alloy material.
Tank material: 4mm thickness
Spherical material: 5mm thickness
Technical specification: The tank is made of steel / stainless steel/aluminum alloy grade 4-6 (mm).
Inside the tank uses the first advanced welding technique, with an anti-wave plate, after forming it will conduct a high-pressure leakage test, making the tank with high rigidity, stable center of gravity, safe when transport.
FOR BEST CONSULTANCY TO CUSTOMERS, PLEASE CONTACT OUR STAFF
IMAE receives design advice and new packaging according to your requirements!

CUSTOMER SUPPORT
Advice and support to buy specialized aluminum alloy tank.
Simple and quick procedure, quick processing time, nationwide support.
Commitment to the best product – the most reasonable price market.
Registration, registration, numbering frames, number plates…
Available cars, all models, delivered immediately.
Designed tanks manufactured by the IMAE factory
ALUMINUM ALLOYS IS THE NO.1 CHOICE IN THE WORLD NOWADAYS
>>> IN VIETNAM PRESENT ONLY THE MODERN FACTORY OF IMAE MANUFACTURED